Sathyajith Bhat
Author, AWS Container Hero and DevOps Specialist
Recent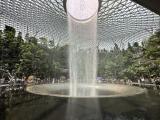 Week 8 summary - Singapore visit, and the start of F1 season.
What's been happening # This week apparently has been a week of watching TV series/movies featuring a person's immortality as theme.
Since last week's Red Hot Chili Peppers with Post Malone concert, I've been listening to a lot of Post Malone and Sunflower has been my earworm.
We're a week into February.